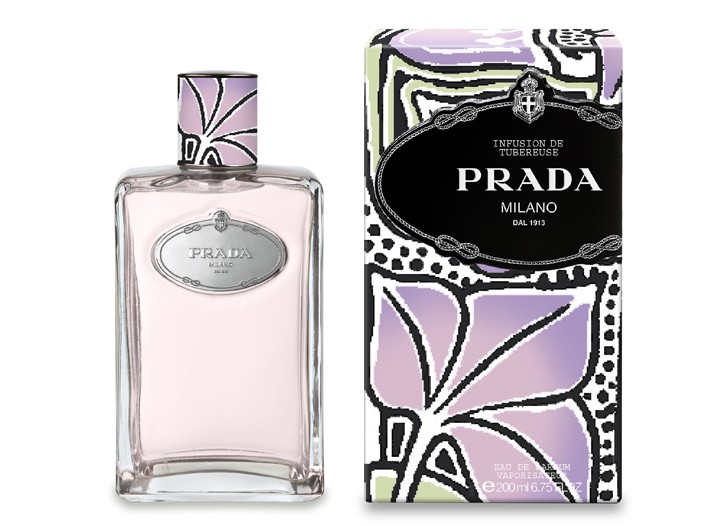 I've always been a girl to stay loyal to Chanel perfumes as I think all of their lines are utterly stunning, however for birthdays and christmases I'm always being bought various perfumes, so I like to experiment with the different brands. Therefore, I'd like to give you my insight to one that I was bought for my birthday: PRADA: MILANO: INFUSION DE TUBEREUSE.
Recently, I've been using this Prada, which I have to say in my opinion is B-E-A-UTIFUL! :) The notes for Infusion de Tubéreuse include tuberose, petitgrain, blood orange and dynamone (an aromachemical with a 'tenacious faintly amber like odor'), and it's described as a crisp green floral.
It's definitely got that floral, quite sharp and sweet fragrant, which I do try to find in perfumes. I have never particularly enjoyed spicy smells as I recognise it to be rather old-fashioned!
I'd say this is more of a spring/summer scent, and for the daytime, but on these rainy days I love wearing a summer scent so I don't end up drowning my sorrows by dinner time!!
One disappointment with this perfume: it does hold that crisp smell, but then seems to fade through out the day quite quickly, leaving a lingering quaint smell. I don't particularly like having a distinct smell on me: hate it when someone walks past you and BAM perfume smacks you in the face, so this isn't a mega issue for me, but I guess for people that like to have that sharp, distinct fragrance throughout the day, this bottle will most likely run out pretty speedy!
Please let me know your ulimate favourites and what you've been wearing this season to upkeep the summer loveee!!!
A xxx